"Riviera of Ulysses" Tour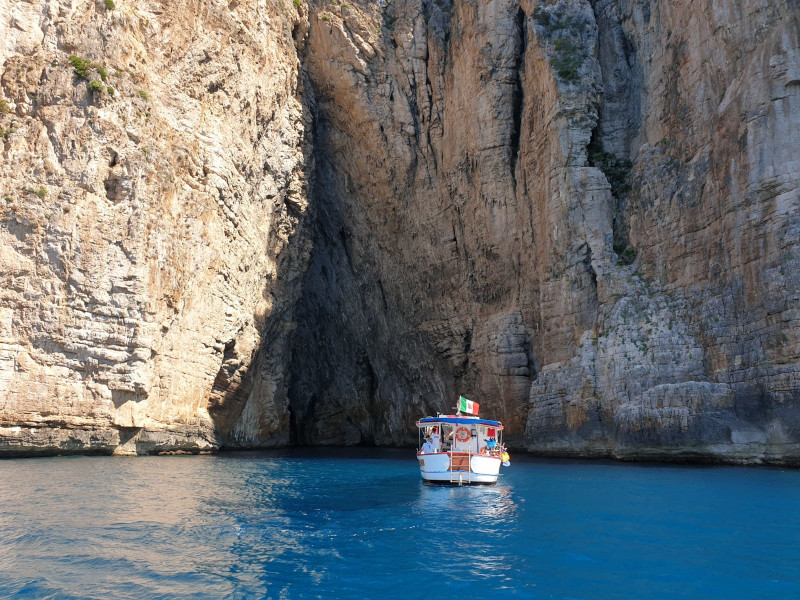 Person number: min 6 (groups are formed based on membership)
Hours: 9.00 on reservation
Price: starting from € 50 per person (adults)
* Not suitable for children from 0 to 2 years
* Inquire at the time of booking.
* Reservation required
* Activity subject to weather conditions
4,5 hours tour up to Gaeta along the 7 beaches that connect Sperlonga to the "Montagna Spaccata"
Upon leaving the port, we will admire the Grotto of Tiberius from the sea, adorned with sculptures depicting the exploits of Ulysses and accompanied by the remains of the emperor's villa.
We will continue along the Via Flacca, an ancient coastal road that houses medieval towers and natural caves. We will then reach the wonderful Blue Grotto, one of the most beautiful pristine bays in the area. Here we can dive into the water and enjoy a refreshing swim and, for those who wish, a little snorkelling.
After the half-hour break, we will leave for Gaeta to closely observe the famous Montagna Spaccata, a truly special natural attraction, on which stands the Sanctuary of the S.S. Trinity. We will then admire the high cliffs overlooking the sea and several natural caves, including the Grotta del Turco.
We will then stop at the Pozzo del Diavolo, a cave with a very particular shape, where we can enjoy another refreshing swim and explore the depths of the protected marine area of ​​Monte Orlando.
During the navigation, the guide will entertain us with information, descriptions and stories and legends. On the way back to Sperlonga, the crew will offer us a delicious slice of pizza by the slice, with which we can refresh ourselves after the "efforts" of the day.
The excursion lasts 4 and a half hours.