"Riviera of Ulysses" Tour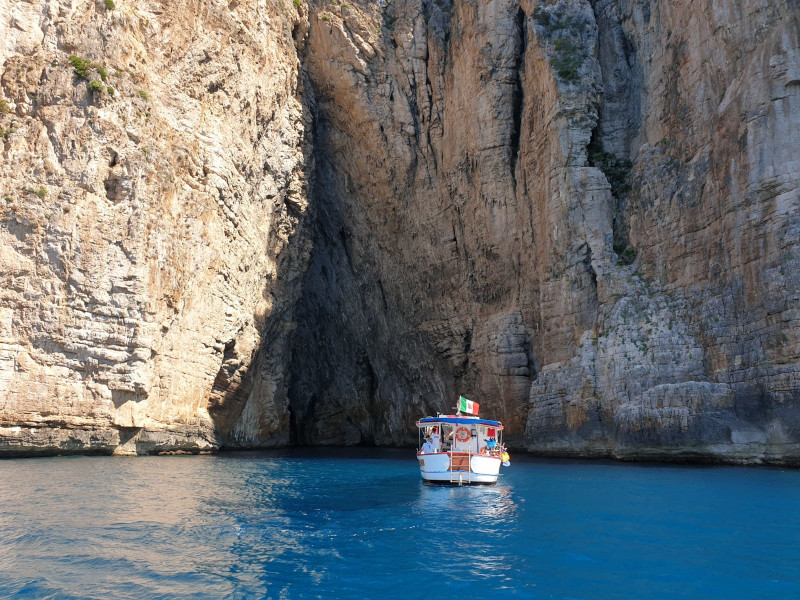 Person number: min 6 – max 12 (groups are formed based on membership)
Hours: 9.00 on reservation
Price: starting from € 40 per person (adults)
* Not suitable for children under 4 years<
* Inquire at the time of booking.
* Reservation required
* Activity subject to weather conditions
4,5 hours tour up to Gaeta along the 7 beaches that connect Sperlonga to the "Montagna Spaccata"
We will start from the Grotta di Tiberio adorned with numerous sculptures depicting the exploits of Ulysses, you will listen to a brief historical account of what it represented for the Roman Empire, and what it still represents for the inhabitants of the place today.
We will continue along the ancient Via Flacca (187a.C.). We will admire the medieval towers dating back to 1500 and wonderful natural caves. We will reach the grotta azzurra, the view of this pristine bay will leave you speechless ..
We will continue towards Gaeta until we reach the Montagna Spaccata, a magical place that attracts thousands of visitors every year. Here stands the Sanctuary of the S.S. Trinità built in the 11th century, on a rock wedged between two cliffs and suspended over the deep blue sea. Unforgettable will be the glimpse of the cliffs, rocky walls over 80 meters high, which drop sheer to the sea and natural caves, including the imposing Grotta del Turco. After the Serapo beach, there is an otone islet, its narrow and long shape resembles a nave, it is said that it was the ship of Ulysses. Il Pozzo del Diavolo is a cave at the top of which there is a hole as large as the perimeter of the same. Enchanting sceneries are guaranteed !!
There are 3 swimming stops. You do not have to go into the water and you can also stay on board, however we do not recommend it 😉